Transportation Risk Assessment
Understanding transportation risk is essential for safety, security, and regulatory compliance.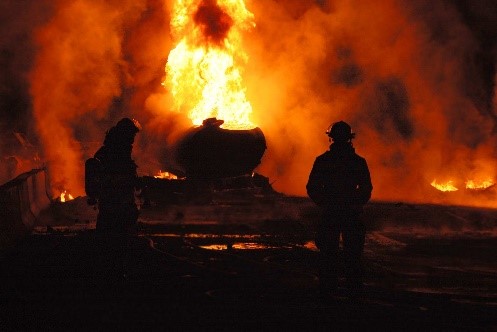 FACTOR supports chemical companies with advanced route risk assessments to enable an informed selection of routes, modes, and suppliers. Identifying locations along existing routes where safety and risk metrics exceed threshold values drives the selection of appropriate mitigation strategies. Our analyses also support planning for alternate routes during service disruptions. We provide ad-hoc analyses and can build custom in-house solutions as well.
We analyze hazardous materials movements to understand total exposure and compare risks associated with mode, route, shipping, and packaging alternatives. These evaluations are multi-modal and custom-tailored to consider decision criteria such as travel time and distance; accident and conditional release probabilities; potential exposure to people, surface water, and natural hazards; and proximity to special areas of security or safety concerns.
Our approach to transportation risk assessments
We employ a practical, yet comprehensive, risk assessment approach where critical safety and security factors are identified and evaluated, routes are analyzed, and recommendations for mitigation are discussed and documented in a final report.
We value collaboration and team problem-solving and work closely with our clients to ensure accuracy and promote the implementation of recommendations. We also strive to help our clients develop core competencies and internal policies or guidance materials related to conducting or participating in future transportation-related risk assessments.
FACT:
FACTOR pioneered the development of the first distribution route risk assessment software used in the chemical industry, HazTrans and, later, VRiskRoute, to assist companies with meeting Responsible Care® requirements starting over three decades ago.
Critical factors in route selection
Optimal routes are determined from options based on both cost and safety risk. Our solutions help ensure that chemical and pharmaceutical companies follow the regulations and industry best practices for supply chain safety and security.
We combine qualitative and quantitative, data-driven, approaches to support informed decision-making.
As a leader in risk assessment, FACTOR is often relied upon for our expertise
Working with the Transportation Research Board (TRB), government agencies, and industry stakeholders, we analyzed available tools, techniques, and data and made recommendations to enhance the state of practice for conducting risk assessments. This work culminated in the publication of HMCRP HM-12: Hazardous Materials Transportation Risk Assessment: State of the Practice
Here are some of the tools and techniques we use for Transportation Risk Assessment
ArcGIS for Desktop
ArcGIS for Desktop is ESRI's standard desktop software environment. ESRI is the leader in geographic information systems. FACTOR is a long-term ESRI business partner and uses the full suite of their products and development tools.
Risk Modeling
We use a range of techniques, qualitative and quantitative, to measure the risk of different, high-hazard activities or situations. We specialize in GIS-based modeling and analysis to better understand risk across the entire supply chain.
VRiskRoute
VRiskRoute is multi-modal hazardous materials decision support tool that enables users to assess route risk, benchmark their transportation risk portfolio, identify high-risk activities and movements, evaluate risk reduction strategies, and meet regulatory route analysis requirements.